Columbia TriStar brings us The Forsaken for Halloween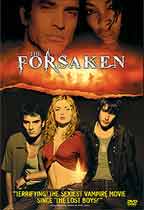 Columbia TriStar Home Entertainment has just unveiled plans to release the horror film The Forsaken this fall, just in time for Halloween.
Driving cross-country to deliver a vintage Mercedes, Sean (Kerr Smith) does the one thing he wasn't supposed to do – pick up a hitchhiker. He is a hunter. And his prey are a roving band of forsaken youths who feed upon hapless victims found in the dead of night – in a word, vampires.
"The Forsaken" will come in an anamorphic widescreen presentation as well as a pan & scan transfer on one disc, together with a 5.1 channel Dolby Digital audio track in English and a French Dolby Surround language track, complemented by a number of subtitle options. The disc will also feature an audio commentary by director J.S. Cardone as he discusses the film. Two separate Making-Of Featurettes and a selection of Deleted Scenes can also be found on the DVD. The release is rounded out by Theatrical Trailers and Filmographies.
The DVD release of "The Forsaken" is scheduled for release on September 25 and will carry a suggested retail price of $24.98!