Circuitry Man comes to DVD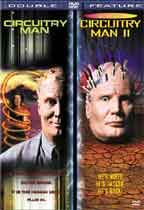 A beautiful smuggler joins forces with a human appliance to deliver a cache of illicit computer chips, the narcotics of the future. The superhero android is out to save what's left of the world from the evil, mind-jacking Plughead.
So goes the story of the Circuitry Man. 1990 saw the original release of the sci-fi video and since then both the original film and it's 1994 sequel Circuitry Man II have been scarcely seen. Now Columbia TriStar Home Entertainment will release both films as a special double feature DVD this September.
The new DVD will contain both films in anamorphic widescreen with their original Dolby 2.0 soundtracks. Both films will be accompanied by a theatrical trailer as well as an audio commentary by filmmaker's Steven Lovy, Robert Lovy, Vernon Wells and Debra Holland.
On September 25th, the "Circuitry Man" double feature will be available for $24.95.