Another season of X-Files is coming to DVD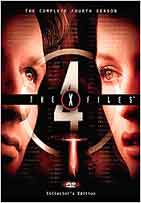 After the success of the first three seasons of the award-winning television show The X-Files on DVD, Twentieth Century Fox Home Entertainment has decided not to mess with a formula that works. The X-Files: The Complete Fourth Season will come this November from the studio.
Season Four picks up right where the previous season ended protecting a mysterious man who may hold all the secrets from the elusive alien bounty hunters. The season includes many of the shows finest episodes and comes to a fierce finale as Scully must confront the men who assigned her to The X-Files and learn their true motives.
"The X-Files: The Complete Fourth Season" will follow the format of the previous box sets very closely, but will contain a few pleasant surprised. All twenty-four episodes from the 1996-1997 season in their original fullscreen aspect ratio and Dolby Surround audio. Other added features include nine deleted scenes, six different interviews, dialogue in foreign languages, the new documentary The Truth About Season Four, spots from the FX cable channel, special effects clips, 48 on-air promos and the new DVD-ROM game, entitled Urbs Tertia.
Other extras unique to this set include audio commentaries on the episodes "Small Potatoes" and "Memento Mori" which includes a never-before-seen kiss between Mulder and Scully. An alternate audio clip will also be accessible for the episode "Home" which was originally edited for broadcast. The viewer can choose to listen to the episode with the originally recorded audio or the televised version.
The set will be available on November 13th, just in time for the beginning of the ninth and possibly final season of the series. Pick it up for $149.98 and watch the conspiracy grow.