A&E will release a library of rare Hammer shorts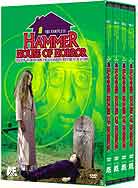 Hammer Studios is renowned worldwide as a leader in the macabre and suspenseful. Any horror buff is familiar with Hammer's classic monster films "The Curse of Frankenstein", "Dracula – Prince of Darkness", and "Curse of the Werewolf". What's less well known however, is a series of 13 short horror stories developed for television by Hammer in 1980. With a staple of Hammer regulars including Peter Cushing, Christopher Lee and Denholm Elliot, along with emerging newcomers including Pierce Brosnan, each episode provides a completely new and individual tale of terror and suspense. A&E Home Video has unearthed these lost treasures and has prepared the complete run of the series, entitled Hammer House of Horror for DVD release.
Presented on 4 DVD, the new set will include remastered video for every episode of the series. In addition to the individual episodes, the set will include production stills and a history of Hammer Films.
"Hammers House of Horrors" will be available from A&E video on August 28 and carries a suggested retail price of $69.95. Not too bad for over eleven hours of film.