Warner is ready to give us Exit Wounds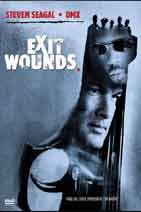 Steven Seagal and DMX led the cast of last spring's action cop-thriller Exit Wounds. The film was plagued with problems during production, but the transistion to DVD looks like it will be a smooth one when the disc hits shelves in August from Warner Home Video.
A tough but burned-out New York City policeman assigned to a remote Long Island precinct uncovers corruption among his fellow officers there.
Warner's presentation of "Exit Wounds" will not be a special edition, but will contain a few treats. In addition to the movie, presented in its original widescreen ratio, the disc will contain a documentary on the making of the film as will as a shorter publicity featurette. a DMX music video will be included along with the film's original theatrical trailer.
Priced at $24.98, Warner has announced the somewhat unusual Friday release date of August 31st. We'll try to confirm that date or post a corrected date as soon as possible.