The complete Fawlty Towers series is on its way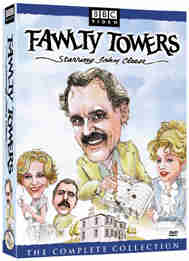 This September, Warner Home Video will further their relationship with the BBC when it releases John Cleese's popular British comedy Fawlty Towers on DVD in the autumn.
Inspired by a hotel John Cleese once stayed in when he was filming "Monty Python." "Fawlty Towers" is the story of a frantically inept hotel owner who is drastically unqualified for his job. His acerbic attitude is only outdone by the verbal assaults rendered him by his wife Sybil. Their attempt to keep the hotel running rarely ends well.
This complete set of "Fawlty Towers" episodes includes special new commentary by John Cleese. The set will be available as a complete set or as three volumes, which will be available separately. The show will be presented in its original fullscreen ratio.
The complete series as well as the individual volumes will be available here in the States on October 16th. The three volumes will be priced at $24.98 apiece, while the complete set will carry a pricetage of $59.98.