Pow, Thwap, Kablooie, Batman comes to DVD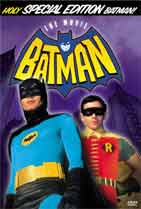 Forget Michael Keaton, Val Kilmer, or Geroge Clooney. The one true Caped Crusader is coming to DVD. Adam West and Burt Ward star in the original 1966 film, Batman: The Movie which is now coming to DVD courtesy of Twentieth Century Fox Home Entertainment.
"Penguin, Joker, Riddler…and CATWOMAN, too! The sum of the angles of that rectangle is too monstrous to contemplate!" So exclaims Commissioner Gordon in the opening scenes of "Batman: The Movie". It's dialog like this paired with stunning scientific devices including "Shark Repellant Spray" that make this cult movie, based on the quirky and bizarre "Batman" television series of the sixties, one of the campiest movies in the last few decades. The plot centers on four of Batman's greatest enemies teaming up to steal a nuclear submarine. Despite the relative ease of their task, their ultimate plans to take over the world are foiled by Batman and their own obsessive quirks.
The Movie's 35th Anniversary Special Edition DVD is presented with an anamorphic widescreen transfer and contains English Stereo, English Mono and French Mono Sound. The disc includes an all-new 16-minute featurette featuring interviews with stars Adam West and Burt Ward, a retrospective running audio commentary with West and Ward, an exclusive tour of the original Batmobile, a behind-the-scenes stills gallery, never-before-seen shots from Adam West's private photo collection, and the original theatrical trailers for the movie.
Stay Tuned faithful readers, "Batman: The Movie" will be available on DVD on August 21st for $22.98. If we get any more information, you can be sure we'll post it here; same Bat-Time, same Bat-Webpage.