Paramount Home Entertainment unveils The Godfather Trilogy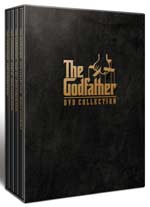 As we had pointed out repeatedly last week, today Paramount Home Entertainment has finally unveiled the release date and exact details about the upcoming DVD release of Francis Ford Coppola's masterpiece, The Godfather!
The films will be released as a complete 5-disc set and will not be available individually. Each of the film will be presented in an anamorphic widescreen with 5.1 channel Dolby Digital audio tracks. The constellation of these five disc is quite unique, though. The first disc of the set will contain the original The Godfather, the movie that started the trilogy. Disc two and three will contain The Godfather: Part II and the fourth disc will contain The Godfather: Part III. Each one of the films will be presented with an optional running length audio commentary by Francis Ford Coppola. The fifth disc is solely dedicated to a wealth of bonus materials, such as Francis Coppola's Notebook, a look at the director's creative process in adapting "The Godfather" from the Mario Puzo book for the screen. "The Godfather Family: A Look Inside," a 73-minute documentary will also be included on this disc, featuring original screen tests and rehearsals among other gems. The 1971 promotional behind-the-scenes featurette will also be included, as well as two separate featurettes, dedicated to "The Music of the Godfather." Another featurette on this disc will revisit many of the original locations where the films were shot in New York's Lower East Side to see what they look like today. The disc will be rounded out by additional scenes, Oscar acceptance speeches and the featurette "The Cinematography of The Godfather" with Gordon Willis are also included in the release. All in all, this package will include almost 4 hours of bonus materials!
So, the wait is finally coming to an end for this highly anticipated release. Get ready when The Godfather Collection will be released by Paramount Home Entertainment on October 9 at a suggested retail price of $74.95.
for all the purists among you, here is the original press release that was released by Paramount Home Video today on the subject matter, with all the juicy details.