New Line presents more John Waters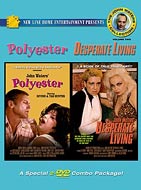 Following the success of the first John Waters two-pack on DVD, New Line Home Entertainment has announced the second volume with two more of the director's films; Polyester and Desperate Living.
"Polyester" features the Fishpaws, a typical nouveau riche family. Pornographer/patriarch Elmer (David Samson) is the owner of the lucrative Charles Art Theatre, teenage daughter Lu-Lu (Mary Garlington) go-go dances for the boys during lunch period, glue-snorting son Dexter (Ken King) has a foot fetish; and poor obese (Divine), loving wife and mother, can barely cope. The nosy neighbors hate Francine for being a smut king's spouse. And her husband left her for his secretary Sandra (Mink Stole). But just when things look their bleakest, Francine's life is about to change…
"Desperate Living" is set in the city of Baltimore, where the well-to-do Gravel family live. Tending to their every whim was their loyal maid-and petty thief-Grizelda (Jean Hill). The mentally unhinged Mrs. Peggy Gravel (Mink Stole) incites the 300 lb. Grizelda to squash Mr. Gavel, the two sisters-in-crime had only one recourse – escape to the kingdom of Mortville, ruled by the insane Queen Carlotte (Edith Massey) and policed by her leather clad troops. When the Queen decides that her daughter isn't decadent enough to assume the throne, she names a new heiress… Peggy Gravel. She rises to the occasion with acts so disgusting and vile that the low-lifes of Mortville decide it's time for a few revolting changes of their own.
The "Polyester" and the "Desperate Living" DVDs each includes a widescreen version of the film, Dolby Digital 5.1 and 2.0 sound, audio commentary by writer/director John Waters, their respective theatrical trailers, cast and crew filmographies, and DVD-ROM contents. Also included in the two-DVD set is a replica of the "Odorama" scratch and sniff card. As in the theatrical release of Polyester, the "Odorama" feature prompts the viewers to scratch and sniff along with the movie.
The entire set including both films and the "Odorama" card is available for $29.95 on August 21.