More great news on Citizen Kane!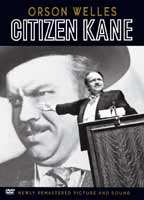 Since our announcement of Citizen Kane's impending DVD release, more good information has come in concerning the disc's content. Still scheduled for a September release, Warner Home Video will be releasing the movie as a two-disc special edition.
The first disc will contain the remastered film itself with audio and video painstakingly restored to the highest possbile quality. The disc will also feature two full-length audio commentaries – one by noted film critic Roger Ebert and the other by writer/director and Welles biographer Peter Bogdanovich. The 1941 New York movie premiere newsreel will be included, as will a gallery of storyboards, rare production photos, call sheets, and the original theatrical trailer.
The second disc in this double-disc DVD release is The Battle Over Citizen Kane, the two-hour Oscar-nominated documentary that chronicles the titanic struggle between filmmaker Orson Welles and newspaper magnate William Randolph Hearst, who claimed Citizen Kane was a thinly veiled and slanderous account of his own life. Interviews, film clips, newsreel footage and stills reveal the fascinating behind-the-scenes story of how Hearst used his formidable power to try to stop production and distribution of the film, and how he ultimately sought to destroy Welles himself.
In addition to the documentary itself, the second disc will also contain interviews with Welles, the stars of Citizen Kane and associates of Welles and Hearst, rare footage from Hearst's San Simeon estate and Welles' historic The War of the Worlds broadcast, and biographical profiles of Welles and Hearst.
All in all, this is simply a stunning package from Warner. No word yet on how the two-disc set will be packaged, but the set is still due on on September 25th of this year. The set will have a suggested retail price of $29.99.