Josie and the Pussycats is on the way from Universal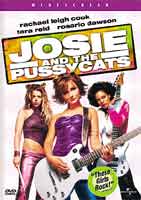 Josie and the Pussycats, the musical review based loosely on the
60's Hanna-Barbera cartoon will be coming from Universal Studios Home
Video this August.
Hot newcomers Josie (Rachael Leigh Cook), Melody (Tara Reid) and Val
(Rosario Dawson) are three small-town musicians with big dreams but
little future. Then fate gives the Pussycats a chance of a lifetime when
they are discovered by band manager Wyatt (Alan Cumming) of Mega
Records, who signs them overnight to an awesome recording contract.
Suddenly, Josie and the Pussycats are living life in the fast lane with
sold-out concerts, a number one single and global stardom. But it's not
all limousines and private jets. The Pussycats soon discover they're
being played like pawns in an evil plot by the record label's maniacal
CEO Fiona (Parker Posey) to control the youth of America.
"Josie" will be coming with an anamorphic widescreen transfer
complemented by Dolby Digital 5.1 and DTS 5.1 English
audio tracks as well as a French Dolby 5.1 track. An additional
audio track will contain an audio commentary with directors
Deborah Kaplan and Harry Elfont, and producer Marc Platt. Three music
videos performed by the film's fictional bands; "3 Small Words",
"Backdoor Lover" and "Dujour Around the World". Additional features
include deleted scenes a "Backstage Pass" featurette
featuring behind the scenes footage with cast & crew interviews, a
theatrical trailer, production notes, cast and crew
biographies and DVD-ROMfeatures.
"Josie and the Pussycats" will be available on August 14, 2001 and will
retail for $26.98.