In September, Columbia TriStar releases 13 Ghosts!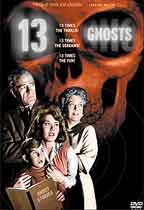 Columbia TriStar Home Entertainment has just unveiled details about a release of William Castle's 1960 horror-comedy 13 Ghosts on September 11.
"13 Ghosts" is a ghoulish haunted house story in which an eccentric uncle wills a huge, ramshackle mansion to Cyrus and his impoverished family to give them the shock of a lifetime. The new residence comes complete with a spooky housekeeper, plus a fortune in buried treasure and… 12 horrifying ghosts. As the terrified family soon discovers, these haunted ectoplasms include a decapitated man, a wailing lady and a flaming skeleton, who are held captive in the eerie house, and must find an unlucky 13th to free them! Who will be the final 13th victim of these ghostly shenanigans?
The film will be presented in an anamorphic widescreen transfer on this DVD in "Illusion-O," using special "Ghost Viewers" to see the spirits in glorious "ectoplasmic color." The film will be accompanied by mono audio tracks in English and Spanish. As extras, Columbia TriStar Home Entertainment serves up a platter consisting of a Featurette on "The Making of Illusion-O" as well as William Castle's original theatrical Introduction. Theatrical trailers and production notes will round out this ghoulish release!