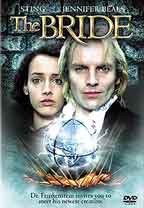 In 1985, Director Franc Roddam decided to put his own twist on the classic Frankenstein story with his pseudo-remake of James Whales' "Bride of Frankenstein", aptly titled The Bride his newer, sleeker, sexier version is getting new life on DVD this fall.
Dr. Frankenstein builds the perfect woman and lives to regret it, in this tantalizing marriage of horror, romance and unbridled passion! Rock star Sting plays the mad scientist and Jennifer Beals lends her dynamic presence as his supreme creation, "The Bride." This spectacular movie follows Frankenstein's creations as they look for their place in the world – the gorgeous Eva (Beals) by declaring her sexual independence and her grotesque mate Viktor (Clancy Brown) by learning self-worth from a compassionate circus dwarf (David Rappaport). Can Sting survive when the monster returns to claim his intended? Alive with brilliant photography and lavish costumes, "The Bride" invites you to a wedding night you'll never forget!
Columbia TriStar Home Entertainment has put some real effort into the new DVD, which will be presented with a new anamorphic widescreen transfer and a newly mastered Dolby Surround audio track. An Audio Commentary by Director Franc Roddam will be included, as will Filmographies for the stars of the film and the film's original Theatrical Trailer.
September 11th will see the release of "The Bride" from Columbia TriStar. The suggested retail price is $19.95.