HBO Home Video delivers 61*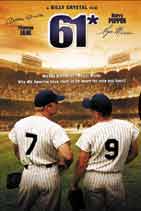 In 1998, Sammy Sosa and Mark McGwire battled to break the Major League Home Run record. But it wasn't the first time baseball witnessed such a race. Billy Crystal directs the critically acclaimed story of Maris and Mantil in 61*.
The year was 1961. Baseball legend Babe Ruth's incredible 60 homer record was under attack. New York Yankee teammates, Roger Maris and Mickey Mantle, were the challengers. Though friends, Maris and Mantle could not have been more different. Mantle was outspoken, a media darling. Maris was quiet, intensely focussed. At the season's opening, veteran Mantle was off to a hot start. Maris however, started poorly and feared he might be traded during his first season with the Yankees. Shockingly, Maris was slotted in the third batting spot – ahead of Mantle. Maris cracked homer after homer, while Mantle's fast paced lifestyle dampened his performance — until Maris encouraged his friend to move in with him and focus on baseball. Mantle accepted and the media soon tagged them "The M & M Boys."
As of yet, no details are available on the new "61*" DVD coming from HBO, although it will likely be presented in its original fullscreen aspect ratio. The disc will be available September 11th for $19.95.