Correction on the announcement of The Neverending Story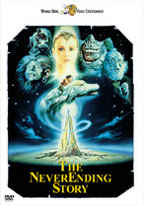 This fall, Warner Brothers Home Video will see fit to release the Wolfgang Petersen family classic The Neverending Story and its 1990 sequel The NeverEnding Story II: The Next Chapter.
The first film introduces us to Bastian, a young boy who's dreary life consists primarily of avoiding the school bullies. One trip to the local bookstore however, provides him an escape from the drudgery of his life in the form of a mysterious book, which the shopkeeper describes as forbidden and dangerous. Like all little boys, that temptation is too strong to resist, and Bastian reads of the world of Fantasia, where the hero Atreyu must save the dying Empress before her kingdom is devoured by The Nothingness. The more Bastian reads, the more he is aware that the characters are aware of him, and slowly he is brought into the world of Fantasia, where he himself must save the kingdom.
In "The Next Chapter" Bastian finds himself returning to the kingdom of Fantasia to help Atreyu and the Empress once again as the kingdom is threatened by the evil sorceress, Xayide.
Unlike previously reported, both films will be released in 16×9 enhanced widescreen transfers on these DVDs with Dolby Surround audio tracks.
The cartoon, Box Office Bunny will also be included in the release, and if you wonder why this mismatch goes together, this cartoon actually openend "The Neverending Story" theatrically and is thereforeincluded on the DVD as a nice gimmick.
Both films will make their DVD debut on September 4th, and will carry a suggested retail price of $19.98.