Columbia TriStar throws some dirt your way… Joe Dirt that is!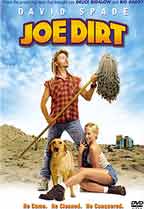 We have just received the full details about Columbia TriStar Home Entertainment upcoming release of the David Spade comedy Joe Dirt, scheduled for release on August 28.
Joe Dirt is a janitor with a mullet hairdo, acid-washed jeans and a dream — to find the parents he lost at the Grand Canyon when he was a belligerent, trailer park-raised, eight-year-old. Now, the irrepressibly optimistic Joe hits the road alone in search of his folks, but as Joe's life story unfolds, jeers turn to cheers, and an entire captivated city tunes in to hear the adventures of Joe Dirt.
The DVD will contain both, an anamorphic widescreen and a fullscreen presentation of the movie, with a Dolby Digital 5.1 audio track as well as English and French Dolby Surround tracks. The disc will also contain two separate commentary tracks. The first one will feature director Dennie Gordon, while the second one features the film's star David Spade. A section with Bloopers and Outtakes is also part of the release, as well as a series of Deleted and Alternate Scenes. Theatrical Trailers, Talent Files and Production Notes round out the disc.
"Joe Dirt" will be available on August 28 at a suggested retail price of $24.95.