Columbia offers a second helping of Zorro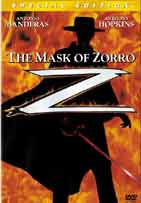 1998's swashbuckling adventure The Mask of Zorro was released as a basic DVD shortly after the film's release with the promise of a Special Edition on the way. It may have taken longer than expected, but Columbia TriStar Home Entertainment finally makes good on their promise, as a new Special Edition is scheduled for released on August 28.
Antonio Banderas, Catherine Zeta Jones, and Anthony Hopkins star in this sweeping romantic adventure of love and honor, tragedy and triumph set against Mexico's fight for independence from the iron fist of Spain.
The DVD will feature an anamorphic widescreen presentation of the film with a 5.1 channel Dolby Digital audio track in English, as well as English, French, Spanish and Portuguese Dolby Surround tracks. The disc will also contain an Audio Commentary by director Martin Campbell and an Original Documentary called "Unmasking Zorro." A series of Deleted Scenes, as well as a look at the film's Costume Designs will also be found on the release. Further, the Music Video by Marc Anthony and Tina Arena will be found on the disc, together with a Gallery of Advertising Materials, Trailers, Talent Files and Production Notes.
This exciting new Special Edition of The Mask Of Zorro is scheduled for release on August 28 and will carry a suggested retail price of $24.95.