American Pie gets Ultimate Treatement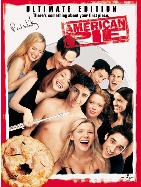 Joining Universal Home Video's Ultimate Edition line-up this August will be the 1999 high school comedy American Pie with new features just in time to promote its upcoming sequel.
The film that built a dubious reputation for teenage crudeness in the tradion of "Porky's" and "Animal House" and made us look at apple pie in a whole new way, this hilarious lesson in life, love, and libido, begins when a group of friends, fed up with their well-deserved reputations as sexual no-hitters, decide to take action. The end result is an honest and affectionate look at a time in all of our lives when we try our hardest to hold onto our dignity… and end up failing miserably.
Like the previous Collector's Edition of "American Pie", the new Ultimate Edition will be available to buy either as the original theatrical version, or a slightly longer unrated version. Both releases will come as two disc sets and will have identical features. Disc one will contain the film with an anamorphic widescreen transfer while disc two will have a fullscreen transfer, both transfers will feature a Dolby Digital 5.1 soundtrack, but an additional DTS 5.1 track will be available only on the widescreen version. Like the previous DVD release, the new set will include an audio commentary with director Paul Weitz, producer Chris Weitz, writer Adam Herz, and cast members Eddie Kaye Thomas, Jason Biggs and Seann William Scott, Tonic's "You Wanted More" music video, Spotlight on Location, outtakes, music highlights, classic quotes, and a theatrical trailer. New features available only in the Ultimate Edition include deleted scenes, original poster concepts, a photograph montage with director and producer commentary, a Tonic "Live" performance, Potty Game, DVD-ROM features include script to scene access, and a sneak peek at American Pie 2 including a new teaser trailer. Finally, like the DVD releases of "The Mummy" and "Jurassic Park", each DVD will include an exclusive Universal Movie Cash instantly redeemable free ticket to see "American Pie 2" which opens theatrically on August 10, 2001.
Both versions of the upcoming Ultimate Edition will be available on July 31st. For those looking to pick this film up or super-sizing their current versions, the two-disc set will retail for $29.98.