Forrest Gump finally arrives on DVD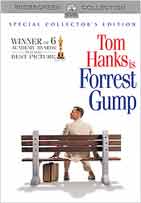 Winner of the Academy Award for Best Picture of 1994, and named by the American Film Institute as one of the 100 greatest films of all time, few films have been more requested than Robert Zemeckis' classic Forrest Gump, and few are more deserving. Now finally, Paramount Home Video has announced a new 2-disc special edition coming late this summer.
Tom Hanks gives an astonishing performance as "Forrest Gump". Through three turbulent decades, Forrest rides a tide of events that whisks him from physical disability to football stardom, from Vietnam hero to shrimp tycoon, from White House honors to the arms of his one true love. Forrest is the embodiment of an era, an innocent at large in an America that is losing its innocence. His heart knows what his limited IQ cannot. His moral compass never wavers. His triumphs become an inspiration to us all.
Almost as exciting as the announcement of the film, is the content of the new special edition DVD. Paramount Home video (who is typically shy with extra content) offers up one of its rare true full-blown special editions. The disc will contain a new widescreen anamorphic transfer and Dolby Digital 5.1 Sound. A recently recorded audio commentary will include comments from director Robert Zemeckis, producer Steve Starkey and production designer Rick Carter. Several featurettes will be provided including the original 1994 making-of special "Through the Eyes of Forrest Gump", "The Magic of Makeup" makeup design documentary, "Through the Ears of Forrest Gump" sound creation documentary, "Building the World of Gump" set design documentary, and "Seeing Is Believing: The Visual Effects of Forrest Gump. A few other features round out the disc including a photo gallery, screen tests, and the memorable original theatrical trailer.
Between "Forrest Gump" and the upcoming special edition of "Star Trek: The Motion Picture", it looks like Paramount has finally committed to some first rate special editions. "Forrest Gump" will be available on August 28th and will carry a suggested retail price of $29.99.