20th Century Fox unleashes the hilarious Monkeybone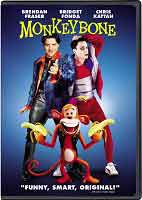 Combining Live Action, Stop Motion And Computer Graphic Animation, 20th Century Fox Home Entertainment imaginative film Monkeybone, from the creators of "A Nightmare Before Christmas," will make its way to DVD later this summer.
Brendan Fraser goes bananas in this outrageous comedy that breaks all the rules! After a car crash sends repressed cartoonist Stu Miley (Fraser) into a coma, he and Monkeybone, his hilariously horny alter-ego, wake up in a twisted way station for lost souls. Now the race is on to escape "Downtown" before Stu's sister pulls the plug on reality forever!
The "Monkeybone" Special Edition DVD contains an audio track in 5.1 English Dolby Digital and Dolby Surround Sound and features running audio commentary by director Henry Selick. The DVD also contains 18 minutes of extended and deleted scenes, a "Making Of " featurette revealing the magic behind the complex live action/animation process, an interactive still gallery, the theatrical trailer, and television spots.
Due for a July 10 release on DVD, "Monkeybone" will be priced at $26.98.