Warner offers us Proof of Life in June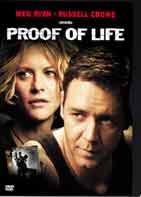 Hot on the heels of Russell Crowe's Academy Award, Warner Home Video will release last years action drama, Proof of Life.
When Peter Bowman is taken hostage, his wife Alice must enlist the aid of Terry Thorne, a rough hostage negotiator, who seems to value job efficiency over human life. Together, they put their lives on the line as they navigate a brutal world of terrorism that values money over life. As they come closer to their goal, they find their tasks complicated by the growing awareness that they're attracted to each other. In the end, Alice must make some decisions about loyalty and love and discover the true nature of her heart.
The upcoming "Proof of Life" DVD will be available in Dolby Digital 5.1 audio and in 16×9 widescreen format. The DVD includes a behind-the-scenes documentary, "The Making of "Proof of Life"", hosted by actor David Caruso and a feature-length audio commentary by director Taylor Hackford. Cast and crew bios, and the original theatrical trailer complete the package.
Coming on June 19th, "Proof of Life" comes at the reasonable suggested retail price of $24.98.