Warner Home Video wants to Pay it Forward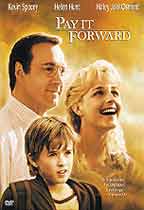 Warner Home Video has unveiled the details on a rather impressive looking edition of last year's overlooked drama Pay it Forward that will make its DVD debut this summer.
Social studies teacher Eugene Somonet, played by Kevin Spacey, and single mother Arlene McKinney (Helen Hunt) have little in common. Eugene's life is in perfect order, everything in its proper place. Arlene's life on the other hand is hanging by a thread as she juggles two jobs and tries to raise her son Trevor. When Mr. Simonet challenges Trevor's class to create a plan to change the world, Trevor takes the challenge to heart. His idea is simple, when someone does you a favor, do pay it back, pay it forward. Not a simple favor, but something they couldn't accomplish themselves. Without his knowledge, the idea spreads across the nation touching the lives of everyone it passes through.
The new DVD will contain an anamorphic widescreen transfer of the movie in its theatrical 1.85:1 aspect ratio, and a Dolby Digital 5.1 soundtrack. Additionally, the disc will feature a full-length audio commentary by director Mimi Leder, an HBO First Look behind-the-scenes featurette, cast and crew filmographies and the film's original theatrical trailer.
Coming from Warner Home Video on May 15th for $24.98, the DVD might make a nice gift for someone you want to Pay Forward.