Warner Home Video releases info on The Pledge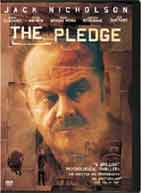 After a fairly brief theatrical run last January, Sean Penn's dark thriller The Pledge will show up on DVD in June thanks to Warner Home Video.
This powerful and exhilarating story follows a retiring Nevada homicide cop (Jack Nicholson) who becomes obsessed with his final case after promising the victim's family he would find the killer. As he follows his own instincts to put the pieces together, he uncovers more than he ever intended.
"The Pledge" on DVD is available in Dolby Digital 5.1 audio and 16×9 widescreen format. The DVD is fairly light on features, but does include cast/filmmaker career highlights, and the original theatrical trailer.
Available on June 19th, "The Pledge" will be available to own for $24.98