The Goonies in search for One-Eyed Willy in August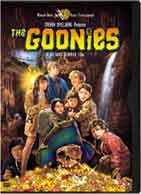 After much begging, pleading, and hoping from devoted fans, Warner Home Video has finally announced plans to release the classic 80's Spielberg film The Goonies to DVD this August.
The friends you keep when you're young may just be the best friends you ever have. The tightness of that friendship is a powerful thing. Such is the case for Mikey, Brand, Chunk, Mouth, Andy, Stef, and Data. They aren't the coolest kids in town. They aren't the richest kids in town. They're the misfits. They are the Goonies. As they enjoy their last precious days together, before their homes are paved over, a magical adventure unfolds. Exploring ancient caves, running from vicious gangsters and eventually discovering a pirate ghost ship filled with treasure, the Goonies live the adventures every kid has imagined on a summer afternoon.
While not Spielberg's most critically acclaimed movie, "The Goonies" struck a chord with many kids growing up in the eighties. No other film so perfectly nailed the friendships and adventures we shared. Even now, the film can bring back memories of those days gone by. Our friends may be grown now, living in different states, and editing books or doing geological surveys, but at one time, we all shared a little bit of The Goonies.
The new DVD from Warner Home Video certainly looks like it was worth the wait. Containing a new widescreen anamorphic transfer, and Dolby Digital 5.1 sound, the disc has all the features a Goonie could hope for. First up is a video commentary, featuring director Richard Donner and all seven Goonies. Also included is part 2 (?) of Cindi Lauper's "Goonies R Good Enough for Me" music video. The original 1985 featurette, "The Making of The Goonies", the original theatrical trailer, and of course, the famous (or infamous) deleted scenes.
"The Goonies" will be available on August 21st with a suggested retail price of $24.95.