O Brother, Where Art Thou? finds its way home to DVD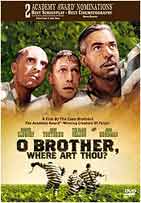 Nominated for two Academy Awards, and winning one Golden Globe for George Clooney's performance, "O Brother, Where Art Thou?" was one of the most original films of 2000. Now, Touchstone Pictures will be releasing it on a fairly impressive DVD.
Created by Ethan and Joel Coen, "O Brother, Where Art Thou?" is a strange and delightful mixture of literary stylings. Based on Homer's "The Odyssey", and placed in the context of a pre-depression Steinbeck novel, the film follows the path of three unlikely heroes. Ulysses Everett McGill (George Clooney) escapes the chain gang with two fellow convicts, the simple and somewhat slow Delmar (Tim Blake Nelson) and ill-tempered Pete (John Turturro), to pursue the promise of hidden loot stashed in his house that is about to be swept away in a flood. On the way, the trio experience a journey filled with hilarious adventure and a cast of strange characters – starting with a blind prophet who warns them that "the treasure you seek shall not be the treasure you find."
Boasting a 16×9 enhanced widescreen video transfer, "O Brother" will contain both a Dolby Digital 5.1 and a DTS 5.1 audio track. In addition to the film, the DVD will contain a behind-the-scenes production featurette, a Script/Storyboard/Scene Comparison for the flood and klan scenes, a theatrical trailer, a special effects featurette entitled "Painting with Pixels", and the popular Soggy Bottom Boys music video, "I Am a Man of Constant Sorrow".
The disc will be available on June 12, and will carry a suggested retail price of $29.99.