Disney updates specs on Unbreakable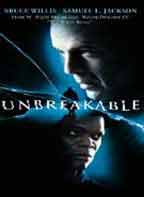 Long known to be a 2-disc set, Buena Vista Home Entertainment has released some more details about M. Night Shyamalan's sophomore outing Unbreakable, which will debut on DVD this summer.
David Dunn has led a relatively uneventful life until he miraculously survives a train wreck and begins to question aspects of his existence. Elijah Prince is a mysterious comic book collector who contacts him, and claims to have some fairly extreme answers. "Unbreakable" focuses on the growing relationship between these two men in this dark atypical superhero story. Often unfairly compared to Shyamalan's prior success, "The Sixth Sense", "Unbreakable" is uniquely its own film. Filled with twists and mystery.
Presented with an anamorphic widescreen transfer, the disc will feature DTS and Dolby Digital surround tracks. Additional features will include behind the scenes footage, deleted scenes, photo galleries, a triva booklet, and the trailer and TV spots. Although the content of the behind the scenes footage is unknown, it will hopefully be as informative and introspective as past Disney/Shyamalan collaborations.
With a retail price of $29.99, "Unbreakable" will hit shelves June 26th.