Columbia TriStar takes you to the wild side in The Blackout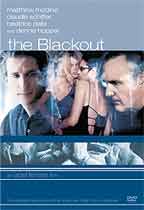 Columbia TriStar Home Video is currently preparing the DVD release of the psychological mystery thriller The Blackout, which scheduled for release on June 19. Directed by acclaimed director Abel Ferrara, the film boast a cast consisting of Dennis Hopper, Matthew Modine, Beatrice Dalle and Claudia Schiffer.
Mega movie star Matty has it all: fame fortune and a gorgeous fiancée, Annie. While in Miami Beach, Matty and Annie plunge deep into its steamy underground nightlife with their thrill-seeking voyeuristic friend Mickey. Matty's excesses get the better of him and when Annie reveals a shocking secret, he leaves her, descending into a self-destructive, narcotic frenzy which ends with a mysterious blackout.
Eighteen months later, Matty and his new girlfriend Susan celebrate his year of sobriety. But as bizarre images from his black night continue to haunt him, Matty is drawn back to the bottle and the dizzying nightlife of South Beach to unlock the riddle of his missing night.
The DVD features an anamorphic widescreen transfer of the movie as well as a fullscreen presentation, and comes with an English Dolby Surround audio track. The only extras found on this release are the Theatrical Trailer and selected Filmographies.
"The Blackout" is scheduled for release on June 19 and will carry a suggested retail price of $24.98.