Columbia TriStar brings us all more Stooges in May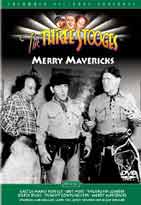 After the successful release of its earlier "Three Stooges" releases, Columbia TriStar Home Entertainment has set a May 22nd date for its forth Stooge collection, The Three Stooges, Merry Mavericks.
The disc will contain six of the Three Stooges original shorts filled with the Stooges patented brand of humor. The episodes are; Cactus Makes Perfect (1942), Out West (1947), Vagabond Loafers (1949), Dopey Dicks (1950), Punchy Cowpunchers (1950), and Merry Mavericks (1951).
Most of the episodes have a western theme, making a nice little collection of shorts.
Like previous "Three Stooges" releases from Columbia TriStar, the DVD will be pretty devoid of features, but it will contain digitally mastered audio and video in the shorts' original fullscreen presentation. The disc will also feature audio and subtitles in English, French, Spanish, and Portuguese.
Coming May 22nd, "The Three Stooges, Merry Mavericks" will make the perfect gift for that special knucklehead.