Anchor Bay Entertainment brings you more Lucio Fulci Horror in May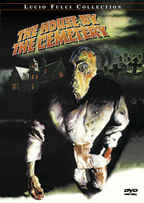 Fans of Lucio Fulci's horror films will have reason rejoice this summer as Anchor Bay Entertainment has just unveiled the details about two more entries in their "Lucio Fulci Collection, " his gory splatter film The Black Cat and the eagerly awaited The House By The Cemetery.
In "The House By The Cemetery", a young family moves from their cramped New York City apartment to a spacious new home in New England. But this is no ordinary house in the country: the previous owner was the deranged Dr. Freudstein, whose monstrous human experiments have left a legacy of bloody mayhem. Now, someone – or something – is alive in the basement, and home sweet home is about to become a horrific hell on earth.
"The House By The Cemetery" features a mind-blowing onslaught of throat-ripping, skull-knifing, maggot-spewing and more, and this outrageous Italian shocker is now presented uncut, uncensored and – for the first time ever – digitally transferred from the original camera negative!
The DVD will feature an anamorphic widescreen presentation of the movie with a Dolby Surround audio track. Theatrical Trailers and TV Spots, as well as Talent Biographies and a Still Gallery can also be found on the disc.
In "The Black Cat," the townspeople of a small English village begin to die in a series of horrible "accidents", and a Scotland Yard Inspector arrives to investigate. But when suspicion falls on a mysterious local medium who records conversations with the dead, the grisly deaths take on a sinister twist. Is a deranged murderer on the loose, or is an even more shocking evil silently stalking in the night?
Completely restored from original negative materials and presented in widescreen for the first time ever, "The Black Cat" is also coming in an anamorphic widescreen presentation with an English Mono audio track. The disc also contains the film's Theatrical Trailer and a Lucio Fulci Biography.
Both films are slated for release on May 29 and will carry a suggested retail price of $29.95!