The television miniseries V is finally making its DVD debut in July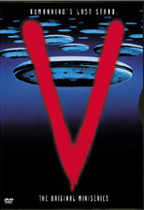 Countless times have we been asked by our readers in the past, whether the science fiction television series V would eventually make it to DVD. Well, it is finally coming and we have just received information from Warner Home Video that a DVD version of the series is scheduled for release on July 10.
The Earth has been invaded by lizard-like beings from another planet called Visitors. A small resistance of rebels led by photojournalist Mike Donovan, Dr. Julie Parrish and mercenary Ham Tyler fight the Nazi-like reign. The aliens usually appear disguised as humans, and are led by Diana, their queen.
According to Warner's information, the DVD will feature the series in its original fullscreen aspect ratio and come with a Dolby Stereo audio track, although technical specs still seem to vary depending on who you ask. No details about the exact contents of the release are known at this point either, and it is also not clear, exactly which episodes will be released, but as soon as we get more detailed information on this exciting release in, we will let you know. July is still ways away and a lot can happen during that time, so let's keep our fingers crossed for a really great release!