Oliver Stone's Salvador makes its debut courtesy of MGM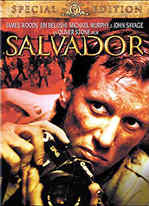 After the release of "The Oliver Stone Collection" by Warner Home Video earlier this year, much anticipation has surrounded the release of Oliver Stone's Salvador. Together with a Special Edition of "Platoon, " his June, MGM Home Entertainment will finally be releasing the powerful "Salvador" on DVD as a feature packed Special Edition.
Set in 1980-81, "Salvador" is based on the real experiences of the American journalist Richard Boyle who travels to strife-ridden El Salvador to cover the military dictatorship controlling the country. Forced into a relationship with rebels, eager to share their stories and photos with the American Press, Boyle must learn to walk the fine line between ambition and journalistic integrity.
In addition to an anamorphic widescreen transfer, and a Dolby Digital 5.1 soundtrack, the special edition will contain a "Making of" Featurette featuring interviews with Oliver Stone, James Woods, and James Belushi, a Commentary track by Oliver Stone, 25 Minutes of deleted scenes, a Photo Gallery and an Original Theatrical Trailer.
Coming June 5, with a suggested retail price of $24.98, "Salvador" will make a fine addition to any Oliver Stone library.