Here are the full details on the upcoming release of Jaws 2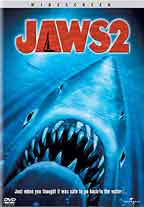 As we had announced earlier already, on May 22, Universal Home Video release a DVD version of Jaws 2. Finally we have received the complete details and information on this DVD, and we thought we'd share the information with you.
After four years of peace and quiet, another killer Great White Shark appears. A series of boating accidents and mysterious incidents have convinced Chief Brody (Roy Scheider) that another Great White has come to Amity Island. He struggles to convince the town officials that another shark is out there, but they refuse to believe him and he loses his job in the process. Meanwhile, more boating accidents occur and when Chief Brody's two sons go out sailing with friends, he has to reach them before the shark does.
The DVD will contain the movie in an anamorphic widescreen presentation in its original 2.35:1 aspect ratio and also contain mono Dolby Digital audio tracks in English, Spanish and French. The disc also offers a variety of supplemental materials, such as the "Making Of Jaws II" Documentary, a Featurette called "John Williams: The Music of Jaws II," and another Featurette entitled "Jaws II: A Portrait by Actor Keuth Gordon." Further a number of Deleted Scenes will also be found on this disc, together with a Storyboard Gallery by Joe Alves and the film's Theatrical Trailer. The DVD is rounded out by Cast and Crew Biographies and Production Notes.
"Jaws 2" is scheduled for release on May 22 at a suggested retail price of $26.98. Just like the release of the original "Jaws," this version has also received a reworked cover artwork, as you can see on the side.