Columbia TriStar Home Video releases The Muppet Movie in June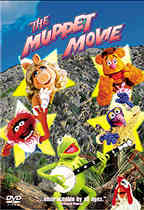 Fans of Jim Henson's furry creatures have been waiting for this film for the longest time and finally, Columbia TriStar Home Video has unveiled their plans to release The Muppet Movie on June 5.
You'll be seeing stars – like Orson Welles, Steve Martin, Bob Hope and others – as "The Muppet Movie" tells the rags-to-riches tale of Kermit the Frog's leap to fame and fortune.
It's Hollywood or bust when a small frog in a small swamp hears about a big audition in Tinsel Town. Against all odds, Kermit hits the road to the big time with only his bicycle and his dream.
Along the way he meets a beautiful actress (Miss Piggy), a stand-up comedian (Fozzy Bear) and a whole troupe of talented friends who join Kermit as he heads West. It's sure to be a lights, camera and action-packed good time.
"The Muppet Movie" features a 1.85:1 anamorphic widescreen and a fullscreen presentation of the movie on the DVD, complemented by a 5.1 channel Dolby Digital audio track in English, as well as Dolby Surround tracks in English, French and Spanish. As bonus materials, the disc will contain Jim Frawley's Camera Test as well as the feature Muppetisms. It will be rounded out by a number of trailers.
"The Muppet Movie" is scheduled for release on June 5 and will carry a suggested retail price of $24.98.