Cheech & Chong do it again in Columbia's Nice Dreams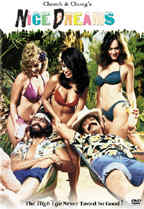 After Paramount released the "Smokin'" films by the comedian duo Cheech and Chong, Columbia TriStar Home Video is now their hilarious film Nice Dreams to DVD as well on June 12.
"Nice Dreams" – it rhymes with ice creams. And that's what Cheech and Chong are selling in this wacky comedy. The outrageous, permanently spaced-out duo sells enough of their "Specially mixed" ice cream to take the cash and realize their longest dream: new guitars, islands in th sun and beautiful women. But of course, nothing goes as planned!
The DVD contains an anamorphic widescreen version of the film as well as a fullscreen presentation. Mono audio tracks in English, French, Spanish and Portuguese complement this release. The disc also contains a selection of Trailers and Talent Files.
Get in line for your ice cream when Columbia TriStar Home Video releases "Nice Dreams" on June 12 at a suggested retail price of $19.98.