20th Century Fox unveils details on Big Trouble in Little China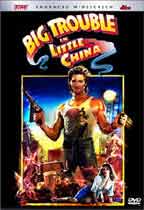 After a considerable wait, the details for Big Trouble in Little China are finally available. Coming from 20th Century Fox Home Entertainment this May, John Carpenter's offbeat action-comedy will be getting the special edition treatment.
Considered by many to by Carpenter's greatest achievement, the film stars Kurt Russell as Jack Burton, an All American Truck driver who finds himself embroiled in an ancient and mystical struggle in the heart of Chinatown. When Jack's friend Wang loses his fiance to the immortal magician Lo Pan, Jack promises to get her back. The resulting chaos is an outrageuos mixture of kung-fu, magic, and truckin'.
Coming as a 2-disc set, "Big Trouble in Little China" will boast a new anamorphic widescreen transfer, and Dolby Digital 5.1 and Dolby Surround tracks, as well as a DTS audio track. Highlighting the set are a new Audio Commentary by John Carpenter and Kurt Russell, and an exciting Extended Ending. Additional features include a Featurette, Music Videos, a Photo Gallery, Deleted Scenes, Production Notesma Theatrical Trailer and TV Spots.
"Big Trouble in Little China" will be available May 22.