20th Century Fox Home Entertainment sends Tom Hanks to the island in June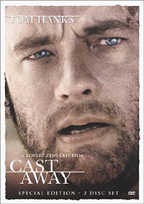 We have just received full details about 20th Century Fox Home Entertainment's plans to release a DVD Special Edition of Cast Away on June 12. The release will be a 2-disc set in order to accomodate the lengthy film and the wealth of bonus materials that will be added to the DVD.
Multiple Academy Award-winner Tom Hanks "gives one of the towering screen performances of all time" in this inspiring tale about survival of the human spirit. Tom Hanks stars as Chuck Noland, a FedEx systems engineer whose ruled-by-the-clock existence abruptly ends when a harrowing plane crash leaves him isolated on a remote island. As Chuck struggles to meet the basic needs of survival, he discovers that his true personal journey, has only just begun.
The DVD will feature an anamorphic widescreen transfer of the movie and come with a 5.1 channel Dolby Digital audio track.. A Commentary Track by director Robert Zemeckis and members of the crew is also part of the release. The disc will also contain Special Effects Vignettes and a number of Featurettes, such as "Wilson: The Life & Death of a Hollywood Extra" and "The Island." A HBO "First Look" Documentary is also part of this release, as well as a Survivalist Documentary. One of the highlights of the DVD will be an Interview with Tom Hanks from "The Charlie Rose Show." Theatrical trailers, TV Spots and Storyboard-to-film comparison will round out this incredible release.
"Cast Away" is scheduled for release on June 16 and will carry a suggested retail price of $29.98.