20th Century Fox brings Tom Hanks to DVD in Bachelor Party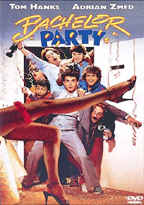 On June 6, 20th Century Fox Home Entertainment will release the 1984 Tom Hanks comedy Bachelor Party on DVD.
Rick and Debbie are all set to get married, so Rick's friends decide to throw him a bachelor party. Rick isn't terribly crazy about the idea, but reluctantly agrees to play along. Debbie's father, however, is not very fond of his daughter's choice for a husband and decides that this is a great opportunity to send Debbie's old boyfriend, Cole, to persuade Rick to give her up. Offering his Porsche in exchange for the bride, Cole shows up at the party only to get hung out of the window by Rick's buddies. In the meantime, Debbie becomes worried about what Rick might do at the rowdy celebration, and decides to crash the party. But when Debbie, disguised as a hooker, enters the hotel room where the guys are having their blast, all hell breaks loose.
"Bachelor Party" will come as a standard release without any supplements other than the movie's theatrical trailer. However, the film itself will be presented in an anamorphic widescreen transfer in the movie's original 1.85:1 aspect ratio. Dolby Surround audio track in English and French will create the sonic foundation for the film.
"Bachelor Party" is scheduled for release on June 5 at a suggested retail price of $22.98.