Warner takes into space with the Space Cowboy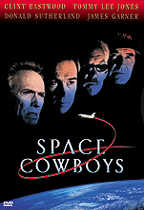 We have just received details about Warner Home Video's plans to release last year's $90 million dollar box office smash, Space Cowboys on April 17. The disc will not only contain a great presentation of the film itself, but also a great number of bonus materials. Once again, Warner is putting a lot of effort into one of their hottest day & date releases, as they did before with a number of titles.
In 1958, the members of Team Daedalus, a group of top Air Force test pilots, were ready to serve their country as the first Americans in space but were pushed aside. Now, as a Russian satellite fails and is about to crash into earth, Team Daedalus is back in action in a rescue mission.
Directed by Clint Eastwood, and starring Clint Eastwood, Tommy Lee Jones, Donald Sutherland, James Garner and James Cromwell, this action-paced story about aging astronauts saving the world, will feature the movie in an anamorphic widescreen transfer and contain a 5.1 channel Dolby Digital audio track. We do not have the final content details for this release, but the DVD is scheduled to contain at least 4 different Documentaries and Featurettes, as well as a number of DVD-ROM features. As soon as we receive the final details, we will of course let you know.
Ignition sequence started… "Space Cowboys" is scheduled for release on April 17 and will carry a suggested retail price of $26.98.