Warner Home Video heats up the muzzles in Rio Bravo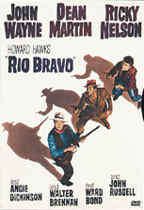 It seems, the market for classic movies is slowly opening up, as we see more and more publishers committing to releasing some of the long-awaited classics from their vaults. One of them is the John Wayne Western Rio Bravo that will now be released on DVD by Warner Home Video on May 8.
There's a showdown at Rio Bravo when courageous Sheriff John T. Chance throws the brother of evil cattle baron Nathan Burdette in jail for murder. When Burdette's men lay seige to his jailhouse, Chance holds on until the arrival of a U.S. Marshal with the help of his drunken deputy, Dude, cranky old man Stumpy, and a beautiful long-legged Feathers.
Although we know at this point is that the DVD will feature an anamorphic widescreen transfer of the movie but we will certainly inform you as soon as we receive more details about this exciting release.
"Rio Bravo" is scheduled for release on May and will carry a low suggested retail price of $19.98!