Universal unwraps all the details about The Mummy Ultimate Edition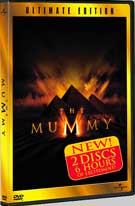 As we had reported earlier already, Universal Home Video has scheduled the release of a 2-disc set The Mummy Ultimate Edition for release on April 24. Although some of the contents of this release were known already, Universal has now revised and completed the list of features for the release, adding some very exciting features, including material that provides an exclusive first look at the filming of the sequel, behind-the scenes footage and feature interviews with director Stephen Sommers and the cast of The Mummy Returns.
The first disc of the set contains the movie itself in a 16×9 enhanced widescreen presentation with English Dolby Digital and DTS audio tracks. It also contains the commentary track by director Stephen Sommers and Editor Bob Ducsay that was on the previous release, but also a new commentary track by lead actor Brendan Fraser, as well as a new commentary featuring Arnold Vosloo, Oded Fehr and Kevin J. O'Connor. The "Building a Better Mummy" Featurette, "Egyptology 101", as well as Talent Bios and Film Highlights, together with the "Mummy" game demo, and "The Mummy Returns" weblink will also be on this disc. A new Script to Scene section allows you to read the script and access the existing scene in the final film.
The second disc of the package contains a wealth of additional supplements, like a Storyboard to Film Comparison and a new Photo Gallery of Production photos. Here you will also find "Pharao Lineage," a feature that gives you an overview about the various pharaohs in ancient Egypt. An interactive "Mummy" game demo is also on the disc, as is "The Mummy Returns" Showcase. A Spotlight on Location documentary featuring highlights of "The Mummy Returns" with director Stephen Sommers, cast interviews and behind-the scenes footage will give you a first glimpse at the production of this anticipated sequel. The Visual & Special Effects Formation and Deleted Scenes from the previous release are also available on this disc, together with the movie's , Theatrical Trailer.
"The Mummy Ultimate Edition" will be available on April 24 and carry a suggested retail price of $29.98.