Traffic to hit DVD in June from USA Home Entertainment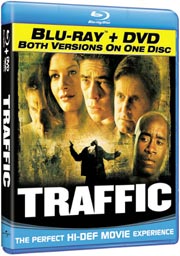 With Oscar-buzz for the film running gaga, USA Home Entertainment has just scheduled Steven Soderbergh's latest action thriller Traffic for release on June 19.
A high-ranking judge with a vendetta against drugs learns his own daughter is a cocaine addict – a San Diego housewife must suddenly take over her husband's drug dealing business when he is arrested – a Mexican police officer struggles to do the right thing in the midst of corruption. Michael Douglas, Catherine Zeta-Jones and Benicio Del Toro star in Steven Soderbergh's amazing intertwined stories of the failing war on drugs.
No exact details about the release have been announced at this stage, but expect a 16×9 enhanced widescreen transfer of the movie with a 5.1 channel Dolby Digital audio track. As soon as the full specs for the release come in we will of course let you know.