Miss Congeniality will soon be strutting her stuff on DVD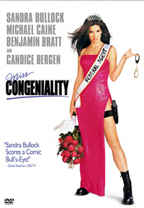 Warner Home Video has just added the Sandra Bullock comedy Miss Congeniality to their DVD release line-up. Scheduled for release on May 1, the DVD will make another strong day & date release from Warner.
Sandra Bullock stars as a bumbling female FBI agent assigned to go undercover as a participant in the Miss United States beauty pageant when it is discovered that one of the contestants is being targeted for murder. Benjamin Bratt leads the undercover team, while also playing the reluctant love interest. Candice Bergen and William Shatner manage the pageant and hire Michael Caine to turn Bullock from rough and tumble agent to stunning beauty queen. The physical transformation is impressive, although the klutzy personality remains. Everything seems to be fine once the killer is suddenly caught, but Bullock suspects there is more to this story, and the truth eventually unfolds with an unexpected twist.
The DVD will feature an anamorphic widescreen transfer of the film and contain 5.1 channel Dolby Digital audio tracks in English and French, that are complemented by a variety of subtitles. The disc will also contain two separate Audio Commentary Tracks, one with director Donald Petrie and editor Billy Weber, the other one with star Sandra Bullock and other crew members. Two separate Featurettes, Outtakes, a selection of Deleted Scenes and the obligatory trailer will also be found on the disc.
"Miss Congeniality" is scheduled for release on May 1 and will carry a suggested retail price of $26.98.