Let the quest begin… Anchor Bay brings The Sword and the Sorcerer to DVD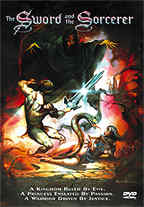 Anchor Bay Entertainment has scheduled the 80's high fantasy film The Sword and the Sorcerer for release on April 24. Following the footsteps of the highly successful ""Conan The Barbarian" at the time, "The Sword And The Sorcerer" is a colorful and action-packed fantasy saga, starring Lee Horsley, Kathleen Beller, Simon MacCorkindale, Richard Lynch, that is filled with brutal battles, luscious madiens, savage monsters and more!
Meet Talon, a daring mercenary who conquers castles and dungeons alike with his lethal three-bladed sword. But when Talon learns that he is the prince of a kingdom controlled by an evil sorcerer, he is thrust into the wildest fight of his life. Can Talon rescue the beautiful princess and slay the warlock, or will he fall prey to the black magic of medieval mayhem?
Anchor Bay is releasing the film in a new 16×9 widescreen transfer with a newly remixed 5.1 channel Dolby Digital audio track. The DVD will also include the film's Theatrical Trailers and a selection of TV Spots, as well as a small replica of the original Theatrical Poster.
"The Sword And The Sorcerer" is scheduled for release on April 24 and will carry a suggested retail price of $24.98.