Criterion Collection announces a Special Edition of Spartacus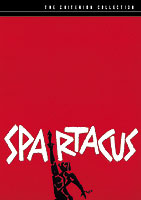 This morning, the full details about a Special Edition of Stanley Kubrick's 1960 monumental epic Spartacus have been announced. Coming through Criterion Collection, a new 2-disc set is now scheduled for release on April 24.
In "Spartacus," Stanley Kubrick directed a cast of screen legends – including Kirk Douglas as the indomitable gladiator that led a Roman slave revolt – in the sweeping epic that defined a genre and ushered in a new Hollywood era. The assured acting, lush Technicolor cinematography, bold costumes and visceral fight sequences won Spartacus four Oscars; the blend of politics and sexual suggestion scandalized audiences. Today Kubrick's controversial classic, the first film to openly defy Hollywood's blacklist, remains a landmark of cinematic artistry and history.
The DVD will contain a new 16×9 enhanced widescreen transfer of the movie and comes with a 5.1 channel Dolby Digital audio track. In terms of supplements, Criterion is reusing the materials they had been also using on their Laserdisc release of the film, such as an audio commentary track with producer-actor Kirk Douglas, actor Peter Ustinov, novelist Howard Fast, producer Edward Lewis, restoration expert Robert A. Harris, and designer Saul Bass. A Scene-by-scene Analysis by screenwriter Dalton Trumbo is also part of the release, as well as additional score compositions by Alex North. A demonstration about the full restoration of the movie is also included.
On the second disc of the package you will find a series of Deleted Scenes as well as Vintage News Reel Footage. A 1960 interview with Jean Simmons and Peter Ustinov and a 1992 video interview with Peter Ustinov can be fond on this disc, as well Behind-the-scenes "gladiatorial school" footage. The 1960 Documentary "The Hollywood Ten," plus archival documents about the blacklist, Original storyboards, hundreds of production stills, lobby cards, posters, print ads, and a comic book are also part of the release, as are sketches by director Stanley Kubrick and the movie's original theatrical trailer.
Although the extras are truly exciting and the prospect of a new 16×9 widescreen transfer is somethnig to look forward to, the release's price is not. With a suggested retail price of $49.95, Criterion Collection once again asks DVD fans to pay a significant premium over common DVD pricing.