Columbia TriStar Home Video will have you Just Looking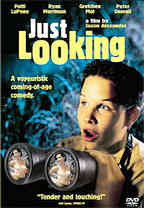 Columbia TriStar Home Video has just announced details about the upcoming release of the 1999 comedy Just Looking. The disc is scheduled for release on April 24 and will carry a suggested retail price of $29.95.
It's 1955 and curious 14-year-old Bronx kid Lenny loves to ride bikes with his buddies, hates school and can't get sex off his mind. When his teacher assigns the class to write down their goals for the summer, Lenny can think of only one thing – that simple yet ever elusive act of love. He may not be ready to do it, but he certainly plans to see it. And finally understand what it's all about. The plan to reach his goal is set, he is certain he won't fail, until his mother informs him that he will be spending the summer with his aunt and uncle absorbing the clean air and enjoying the scenic countryside of Queens! Lenny reluctantly leaves for Queens, thinking his plan is a bust and his summer destined for boredom, until he meets a new group of friends who have a secret sex club. And then he finds true love in the form of Hedy, a nurse/bra model, who does a little more nursing than modeling. What lies ahead is a summer filled with adventures that will change Lenny's life forever.
"Just Looking" will come in an anamorphic widescreen presentation with an English dolby surround audio track. The DVD also contains a commentary track by director Jason Alexander, producer Jean Doumanian and editor Norman Hollyn. A series of Deleted Scenes will also be found on this DVD, as well the movie's Theatrical Trailer and Talent files.