Columbia TriStar Home Video shows us My Life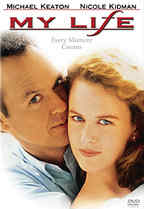 On April 24, Columbia TriStar Home Video will release My Life, a charming love story, starring Nicole Kidman and Michael Keaton. It is an emotional rollercoaster that now makes its home video debut on DVD.
"My Life" is a soaring family love story about a high-powered executive, diagnosed with terminal cancer, who's forced to make plans for his unborn son. And so he begins the filming of a home movie, "My Life," in which he teaches his son all the things a man must know: how to shave, how to slam dunk and, most of all, how to love.
The DVD features an anamorphic widescreen presentation of the film and Dolby Surround audio tracks in English, French and Spanish. The only extras that will be found on this release are the movie's Theatrical Trailer and a selection of Talent Files.