Cher and Dennis Quaid take on the legal system in Columbia's release of Suspect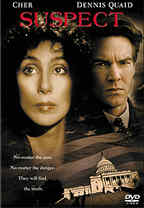 On May 8, Columbia TriStar Home Video will release the courtroom drama Suspect on DVD, and we have been able to find out all the details of this release for you.
Kathleen Riley (Cher) is an overworked Washington D.C. public defender who needs a vacation. Instead, she is assigned another case. But this is no ordinary crime, with no ordinary criminal. Lobbyist Eddie Sanger (Dennis Quaid) gets saddled with jury duty, just when a critical bill is coming up for vote. While on jury duty, Eddie discovers evidence critical to Kathleen's case and contacts her outside the courtroom… a violation of the law.
Bizarre evidence leads Kathleen on a dangerous trail from Washington's seamy underbelly to the highest levels of government. And the closer she gets to the answer, the more her life is in danger.
Columbia TriStar Home Video is releasing "Suspect" in an anamorphic widescreen presentation with Dolby Surround language tracks in English, French, Spanish and Portuguese. The release will also contain an audio commentary track by director Peter Yates, as well as the movie's Theatrical Trailer, selected Talent Files and Production Notes.
"Suspect" will carry a suggested retail price of $19.95 when it will hit retail shelves on May 8.