Celebrating Marilyn on DVD with Some Like It Hot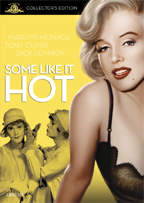 To celebrate Marilyn Monroe's 75th birthday, in May, MGM Home Entertainment will finally release what is widely considered the best comedy of all times on DVD. The Marilyn Monroe classic Some Like It Hot will come to DVD in two different versions, as a standard release and as a Special Edition, both scheduled for release on May 22.
When Chicago musicians Joe (Tony Curtis) and Jerry (Jack Lemmon) accidentally witness a gangland shooting, they quickly board a southbound train to Florida, disguised as Josephine and Daphne, the two newest – homeliest – members of an all-girl jazz band. Their cover is perfect… until a lovelorn singer, played by Marilyn Monroe, falls for "Josephine" and an ancient playboy falls for "Daphne" while a mob boss refuses to fall for their hoax!
The DVDs will contain a widescreen presentation of the movie in a 1.66:1 aspect ratio, and contain a newly remixed 5.1 channel Dolby Digital audio track. The Special Edition DVD will also contains a documentary with Leonard Maltin and Tony Curtis, entitled "A Look Back," as well as the Sweet Sues Featurette about the all-girl band. An interactive 3D Hall of Fame featurette with five vignettes including never-before-seen photos, and the movie's theatrical trailer will also be found on the DVD. Behind-the-scenes photos and the original press book gallery are also included.
Both versions are scheduled for release on May 22 and while the standard release will be available at an ultra-cheap $14.95 retail price, the Special Edition will be handed to you for only $24.98! Hot, isn't it?