Artisan is preparing Requiem For A Dream for release in May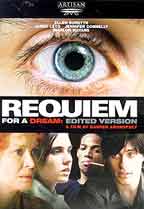 We have just received information that Artisan Home Entertainment is preparing Requiem For A Dream for release on May 22.
Darren Aronofsky, director of the critical smash "Pi", follows up his acclaimed debut with a gritty, stylish, emotionally charged story of love, loss, drugs and dreams amid the faded glory of Coney Island. Intricately linking the lives of a struggling, small-time drug dealer (Jared Leto), his pill-popping mother (Ellen Burstyn), his upper-class girlfriend (Jennifer Connelly) and his best friend (Marlon Wayans), "Requiem for a Dream" weaves a hypnotic tale of four human beings longing for love and acceptance. Soon their all-consuming addictions become a source of pleasure and pain, leaving them to experience extreme levels of degradation and tragedy.
The DVD will feature an anamorphic widescreen transfer of the movie and come with a 5.1 channel Dolby Digital audio track. But also some extras are planned for this exciting release, such as an audio commentary track by director Darren Aronofsky, as well as a second commentary track by other crew members. The disc will also contain a Documentary, a selection of Deleted Scenes, and Interview Segment, as well as a selection of Trailers and TV Spots.
"Requiem For a Dream" is scheduled for release on May 22 and will carry a suggested retail price of $24.98.