20th Century Fox brings the Men Of Honor to DVD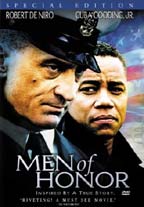 Scheduled for release on April 10, 20th Century Fox Home Entertainment will release the military drama Men Of Honor to DVD in a Special Edition. Starring Robert De Niro, Cuba Gooding Jr., and Charlize Theron, the DVD will also contain some exciting supplements.
Carl Brashear lets nothing stand in the way of his dreams. The son of a Kentucky sharecropper, Carl leaves home for what he expects will be a better life. After he joins the newly-integrated Navy, Carl spends two years writing letters before the service accepts his application for its Dive School program. Carl's training officer, Billy Sunday, wants no part of Carl or his ambitions. Sunday, a celebrated Master Chief Navy Diver whose exploits as a troublemaker are as legendary as his accomplishments as a diver, relentlessly taunts and challenges Carl, expecting him to falter and quit. But Carl's goal is clear, his determination fixed on his dream of becoming a Navy Diver. Years later, after Carl suffers a crippling injury, he and Sunday unexpectedly join forces. The rebellious senior officer helps Carl buck Navy bureaucracy, overcome the loss of a leg, and go on to make military history.
The DVD will feature an anamorphic widescreen transfer of the movie in its 2.35:! aspect ratio, as well as a 5.1 channel Dolby Digital audio track. The film will be accompanied by a commentary track by actor by Cuba Gooding, Jr., director George Tillman, Jr., producer Robert Teitel and screenwriter Scott Marshall Smith. An alternate ending and a series of 11 deleted scenes with commentary by director George Tillman, Jr. is also part fothe release, as is a gallery of animated storyboards, also with commentary by the director.
"Mater Chief: A Tribute to Carl Brashear" is a full documentary that will also be part of this release, and the DVD will further contain a HBO First Look Featurette. Combined with the Brian Knight Music Video "Win", and the movie's theatrical trailer, this is an exciting package that Fox is presenting here.
"Men Of Honor" will be released on April 10 and carry a suggested retail price of $29.98.